The calendar year is coming to a close, and many of us can look back to discover how  much the year has taught us. At least, this is my own view.
In order to celebrate lessons learnt of any type, shape, and magnitude, Transmissible organizes a playful Friday Afternoon Workshop around learning.
The Play to Learn Workshop
Friday 15 December 2017
Open between 3-6 pm
Transmissible, Houten, NL
Those who manage to drop by, will enjoy exploring a range of attractive (and occasionally addictive) board games with an educational twist. Here are some examples:
The Disease Detectives
A classic among the educational games in epidemiology. Designed, Developed and Produced by
Esther Kissling and Florian Burckhardt
, this board game offers a playful challenge for 2-4 players. Each player manages 3 disease detectives, that will need to run around the field to perform epidemiological, environmental, and microbiological investitigations. That will provide them with evidence to bring to the Press Conference, where the Intervention to Stop the Outbreak needs to be presented.
Like in real life, the more time you spend to investigate, the higher the chance that you will get valuable evidence out of it. But be careful, your competitors may put the Cursed Pump on your path, causing disease among your detectives. Fortunately, you can ask the help of the Spirit of John Snow, to protect you from the Cursed Pump. But will you be ready in time for the Press Conference??
---
.
.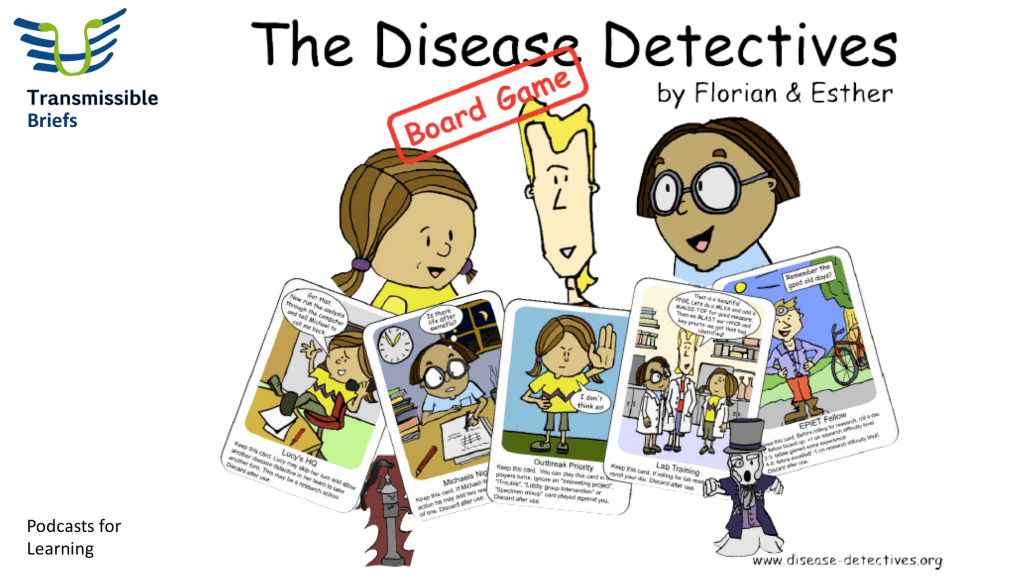 The disease detectives is fun to play with public health scientists; they can take 'the advanced path', to speed up the research by answering questions correctly about epidemiology, statistics, microbiology, and environmental investigations.
If you are not that well versed in public health science, no worries. You can simply skip the expert questions, en play for the fun. We've recently played it with 10-years olds, and they loved it !
A great game, plays in 45-60 minutes. Well Done Florian and Esther !
 .
.
.
.
.
Defenders of Soma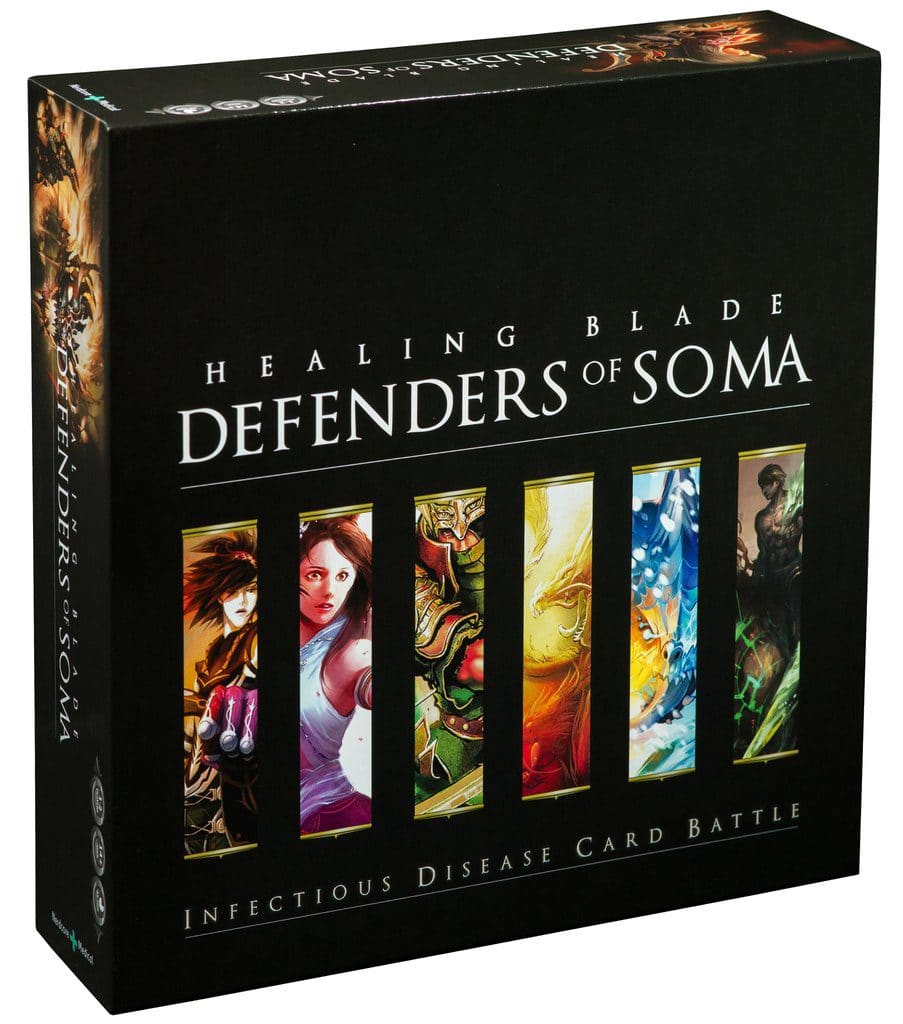 This is a classic card-battle-game, in the style of Magic the Gathering. Developed by Nerdcore Medical, in the series of the Healing Blade, this 2 player game is AWESOME!
Basically, Pestilence plays against the Apothecary. The former has a range of good, bad, and ugly bacteria to throw at the village in the middle of the board.
Opposite to Pestilence, sits Apothecary, definding the villagers with antibiotics. But beware! Each time an antibiotic is successfully applied, Pestilence will unlock the blocks that prevent Resistance to occur. Once all blocks are removed from a certain class of antibiotics, then this class will no longer be effective!
The bugs have awesome artwork, as have the antibiotics. You can play this game in normal mode, or in student mode. As a student, you will cover the effective treatment information on each pathogen; you will need to know by heart which antibiotics are effective to treat pseudomonas, and which are not……
Will you be able to save the village?
 .
.
.
.
.
.
.
.
Cytosis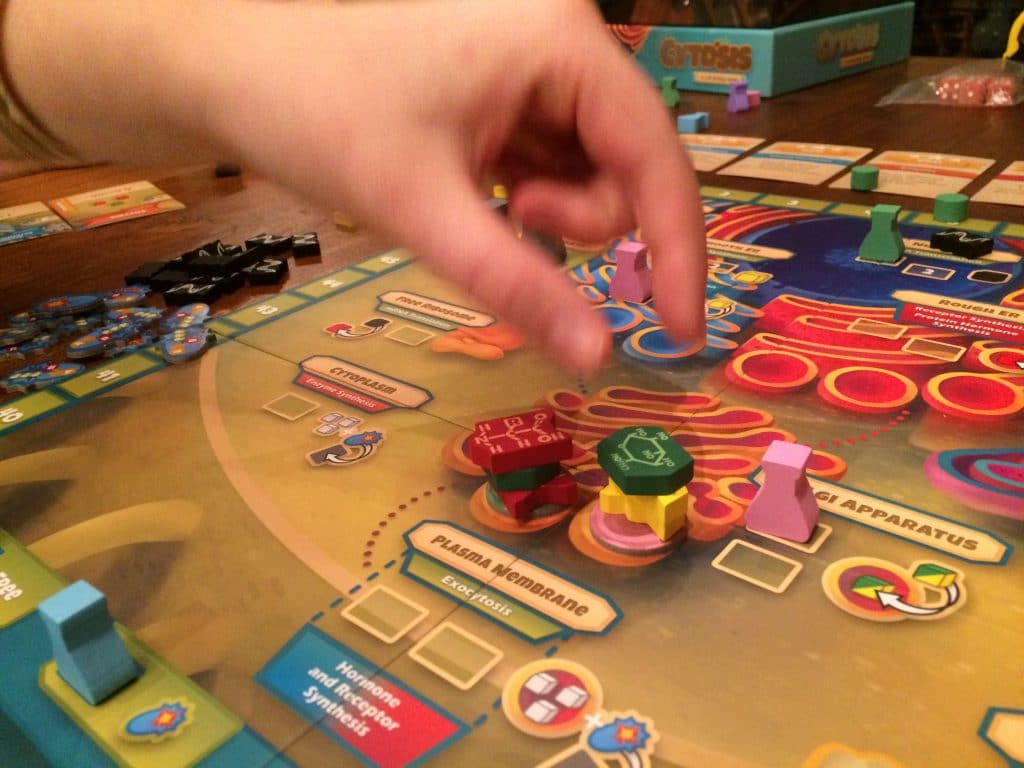 This is our latest piece of the collection. Developed by John Coveyou, this board game allows 2 to 4 players to step into the life of a single cell. Who will be able to keep the cell healthy, and gain most points by using mRNA to produce enzymes, hormones, and hormone receptors?
A wonderful resource management board game, with very well designed and well balanced game mechanics. The artwork is great.
And guess what? we have the Collector's Edition, including the Virus Expansion. This is an extra challenge, because look what happens with your perfectly lined up protein synthesis once Ebolavirus starts bugging your inner cellular life…..
Glad to have backed this one on Kickstarter.
 .
.
.
.
.
Lab Wars
Lab Wars is a tongue-in-cheek card game, emulating the nasty academic competetion. No trick is left out, to block the academic progress of your competitors. Everyone wants to be first author, and aims for the Nobel Prize.
But it is not at all certain that the head of department will win this rat race. Perhaps it will be the quiet research assistant?
A game to take with a smile, for sure, if you want to avoid permanent frustration of your co-players.
Scientific Sabotage was never so much fun!
Wanna try it? Just drop by.
Feel free to drop by
On Friday 15 December, we'll have our workshop room ready to host games around several tables. And there will be some drinks and snacks to keep your tummy satisfied too. Just be sure to wash your hands before taking a handfull of crisps! After all, you will be playing with Pathogens.